Baby's skin is very fragile. Caring for it, especially cleansing, baths and diaper changes are special moments of sharing filled with love.
Whatever your skin type, specific factors might trigger or lead to oversensitivity: Your skin reacts strongly when you'd rather it didn't…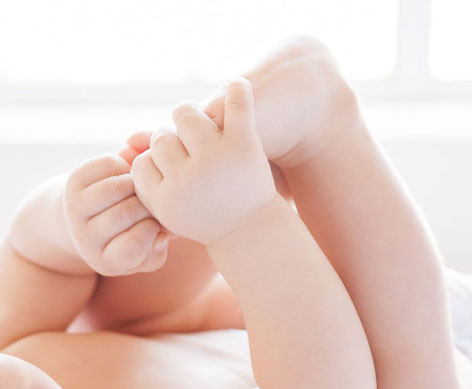 Baby's skin plays a double role :
-First, a relational role since from birth, it is through skin-to-skin contact that baby gets acquainted with the world around him. Before he can see this world, he feels it through his skin.
-Then, a protective role since the skin prevents excessive water, protein, minerals and heat losses and microbes and bacterias from getting in….
It is easy to understand that the skin must be "strong and resistant" in order to fulfill its barrier function correctly, meaning in good health.

But the fact is that at birth, it is particularly soft, velvety, fine and therefore fragile, tender, vulnerable.
Even when healthy, the skin barrier is far from being an absolute barrier. As a consequence, one has to be very careful with baby's skin, it requires all your attention and a lot of gentleness.
Its natural fragility can cause small or large concerns.
Small and large concerns

There are many enemies, you may as well be aware of them:
-Cleansers that contain surfactants to eliminate impurities can be irritating (colorants, preservatives…)
-Urine and feces that stay in contact with the skin over a long period of time,
-The sun, it can burn baby's skin or cause it to become dehydrated. You have to be careful at all times.
-A trauma (even a seemingly light one like removing a band aid ), a scratch, a burn, even superficial, can cause a small lesion that could quickly let an infection in….)

High tolerance products
Cleansing, baths and diaper changes are special moments of bonding with baby;
By combining skin cleansing with your baby's emotional life, you can create special moments of softness, love and sharing.
It is crucial to choose the safest products for him:
-Formulated with a minimum number of ingredients selected for their great softness and perfect tolerance,
-Fragrance-free, colorant-free, alcohol-free, paraben-free,
-Tested under pediatric and dermatological controls,
-Suitable for the most fragile skin,
-Very high tolerance.
Which baby cleansing products are recommended ?
The purpose of a baby's cleansing routine is to ensure good skin hygiene and prevent infections. Do not use regular soap which is too harsh and might irritate or dry your baby's skin. It is necessary to use gentle products formulated for baby's skin. For your baby's hair, 2-3 times per week, use a product for body/hair or a baby-specific shampoo that doesn't sting the eyes.

• Cleansing the eyes: Use clear water or a physiological serum.
• Cleansing the ears: Never use a Q-Tip, clean only the earlobes.
• Cleansing the nose: Use a bit of rolled up cotton soaked in physiological serum, change cotton for each nostril.
What about an evening bath?
An evening bath is relaxing and might help your baby fall asleep. Let your baby play in his bath, discover the water and have fun in it.The bath temperature should be around 36-37°C (98°F). Wash and dry your baby gently, paying particular attention to the folds.Never leave your baby alone in his bath or changing table.
What to use on baby skin?
Just use what is strictly necessary for cleansing and hydrating. Use specific products that offer a guarantee of safety.
How do I deal with cradle cap?
It is common and not serious. It is recommended to lift them gently with a soft brush after softening them using a specific product. If the problem persists or spreads, a medical ointment might be necessary. Ask your physician or pharmacist for advice.
Is the sun really harmful for my baby?
The sun is necessary for the well-being and growth of young ones. But under certain conditions:
• From noon to 4PM, do not put your baby in the sun
• Before going on a walk or to the beach, apply a strong SPF (50) sunscreen.
• Leave your baby in the shade. If he goes in the sun, dress him with a dry t-shirt, a cap or a hat.
• Select approved sunglasses (CE marking).
• Reapply sunscreen regularly (specially after swimming).
• Use a beach umbrella to protect your baby (beware of the sun's glare).
• It is important to make your baby drink often.
How do I prevent redness on my baby's bottoms?
Prevention is crucial. You need to:
• Cleanse his bottom thoroughly several times per day, at each diaper change, in order to avoid contact with urine and stools.
• Use a suitable cleansing water or lotion and rinse gently.
• In case of irritation, spray a fine mist of Avène Thermal Spring Water.
• Dry his bottom using a clean, soft cloth or paper wipes, do not rub.
• You can then apply a diaper cream which acts as a film to isolate the skin from its "aggressors".

• In case of irritation, let your baby's bottom air out as much as possible.
• If the irritation persists, consult your physician.