Men and women's skin do have some key differences. Caring for it on a daily basis by using the right products will soothe and protect it while providing well-being and an instant refreshing feeling.
Whatever your skin type, specific factors might trigger or lead to oversensitivity: Your skin reacts strongly when you'd rather it didn't…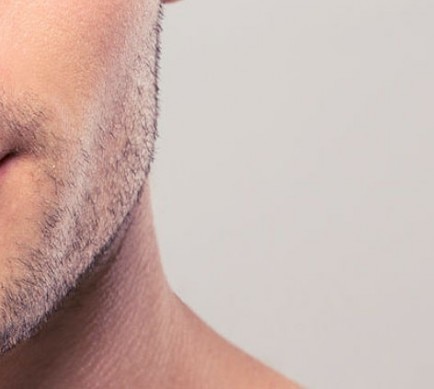 Male skin characteristics
Men-women, not created equal….
The skin of a man is not the same as the skin of a woman. There are numerous and important differences. While it is a complex issue, we can focus on some key points.

Male skin characteristics

Thickness: Man's skin is about 25% thicker than a woman's skin, therefore it is less "fragile". While it takes longer to "crease", it does so more deeply when wrinkles start to appear

Aging: While a woman's skin starts showing signs as early as 25, a man's skin won't until his thirties. However, once signs start, they can be brutal….

Hormones: A man's skin contains more androgen than estrogen and produces more sebum, thus the need for different treatments for men's and women's skin.

Dryness: Whether genetic or acquired, skin dryness in men and women is common. It has become increasingly common from our urban lifestyle (stress, pollution, air conditioning, overheating) and also from climate and lack of protection (very cold weather or bright sun).


Unusual and common issues

Did you say "folliculitis"?
Folliculitis occurs when the tiny pocket containing the root of a hair gets infected by a bacteria (Staphylococcus aureus) or a fungus and an inflammation results.

Small red pimples appear most of the time in the neck area...
Fortunately, we know how to prevent them and once they occur, we know how to get rid of them with the right products….

Electric shaver…
Has the reputation to be safe. A good electric shave means a good preparation. The hair should first be raised and hard. Prevention and care of ingrown hair, so unpleasant and unsightly, is therefore crucial.
…. And manual shaver!
This manly chore is the cause of all types of trouble. Using a manual shaver is a source of irritation, cuts, tightness, burns, scratches… ways to let harmful bacteria in.
It is still being used since it is the only way to get the "perfect" shave.The key is therefore to treat the skin properly before, during and after shaving.


Recommendations
Fortunately, versatile skin products are available, the same formula can moisturize the skin and protect it (sunscreen, for example). Another option is a product that can both moisturize and repair (for example the after-shave balm).
In this regard, it is important to select a shaving cream, foam or gel carefully since each offers a particular "dynamic" effect. Your skin should choose, for its own benefit.


Is there a difference between men and women's skin ?
Yes, there are key differences which justify using different skin care products:
• Man's skin is thicker.
• It is firmer and more elastic.
• It generates a higher amount of oil secretion.
• It is more hairy. 
What are shaving related problems?
Daily shaving has a abrasive effect on the skin. Either blade or electric, shaving damages the hydrolipidic film resulting in a loss in the skin's natural protection.
What causes ingrown hair?
Ingrown hair is very common. Two mechanisms are at work, to varying degrees:
• Hair cut too short, below the epidermis, leads to a secondary "transfollicular" penetration of the dermis.
• Hair that is too long curls back to burrow itself into the skin from the outside, causing an "extrafollicular" penetration.
Are there specific products for ingrown hair?
• Apply a specific product to affected areas in the evening
• In the morning, use a shaving foam with a coating texture and creamy foam formulated for the most demanding skin types..
• Following shaving, apply a rich or light after-shave, based on your skin type, dry or normal to combination.
Is there a risk of secondary infection?
Yes. In case of secondary infection, the pilosebaceous follicle is affected, usually by the Staphylococcus aureus (S. aureus) bacteria. Treatment:
• Cleanse face and hands thoroughly before shaving.
• Shave carefully, changing razor blade each time.
• Apply topical antiseptics or antibiotics in the evening after cleansing your face and in the morning after shaving.
What is recommended for a good shave?
• In order to facilitate shaving, prepare your skin by moisturizing it with warm water.
• Apply a shaving foam.
• Rinse and dry your skin thoroughly.
• Use an after-shave to soothe razor burn, repair tissues damaged by the blade and prevent bacterial risks.
• Products containing alcohol are not recommended after shaving.
What are the differences between a foam, a gel and a shaving cream?
Each texture is formulated for a particular type of skin and beard.
• The creamy and light texture of the foam works best for all sensitive skin types and normal beards.
• The thick and creamy texture of the gel works best for blemish-prone skin and all beard types.
• The soft and creamy texture of the cream with brush works best for sensitive skin and hard beards.